Information, Intelligence, Automation & Omnipresence
Thanks to advancements in AI, tech futurists are now the most coveted mad men of the century.
Information, Intelligence, Automation & Omnipresence are the new infinity stones. We're busy re-imagining businesses with these superpowers, imagining brands express themselves like a well orchestrated symphony.
Firstly, what makes a business thrive & succeed?
Successful businesses are storm survivors, that thrive in the face of change.
They're like a buzzing neural network, receiving & responding to new information everyday, with extreme agility — be it from inside the organization or outside.
They're omni-present, flexible and available to be of service through any medium.
They're open to listening & learning from every moment, every human interaction.
They're swift to unlock opportunities in adversities, with extreme resilience — creating new organizational behaviors.
They're accelerated by technology, fueled by purpose — not the reverse.
Secondly, what are the
four pillars

that are needed to thrive?

CONTINUOUS INTEGRATION – CONTINUOUS DELIVERY WITH FASTLANE
Are these 4 pillars enough to help businesses disrupt?
Here's what we believe:
A business doesn't disrupt with a new software, it disrupts with a fresh new expression of the brand, touching & engaging people in a whole new way.
Technology can make your brand come alive in moments that matter. Technology can create a new ambience for conversations & engagement to happen. Technology can bring method to the madness. Technology can't give a brand it's magical madness, what we call a "mojo". Every few years, businesses stagnate on a plateau, struggling to reinvent themselves. Stagnation happens to every growing business, any size, any industry.
Today, businesses are unable to turn inwards to discover their "mojo", they're born with and give it a fresh new form of expression. Instead they look for it outside, in new technological inventions.
EXPLORE CODEWAVE'S AUTOMATION SERVICES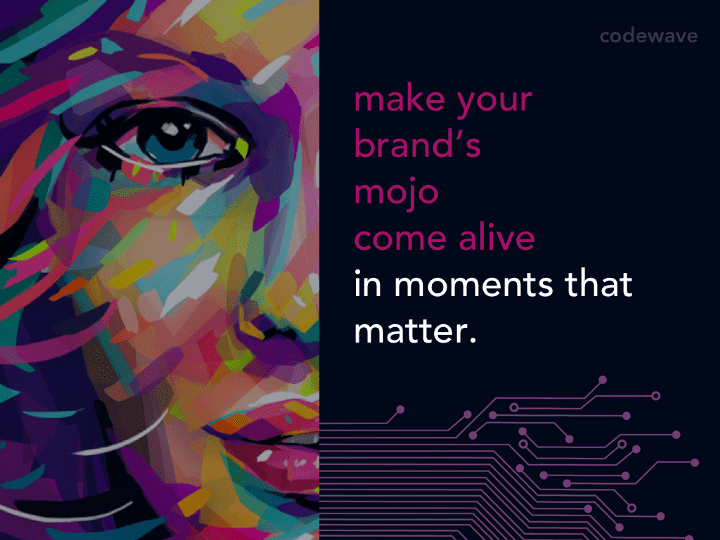 In a fast moving world of expressions, engagement and exchanges — technology brings the power of information, intelligence, automation and omni-presence, to cultimate into an extraordinary moment, for people coming in touch with your brand.
It's upto businesses to find their 'magical madness', identify new ways for the brand to express & engage with people, bring in the right technology enabled solutions to create a path for disruptive growth.
Liked what you read?
Stay connected to Codewave for more such insights and feel free to reach us at hello@codewave.in or +91 8971824910. If comfortable you may drop by at 1st Floor, Shree Chambers, #307, Outer Ring Rd, Banashankari 3rd Stage, Bengaluru, Karnataka 560085. Thanks for taking out time to read this article. We hope it enriched your existing knowledge. Do let us know your views, by sending an email to hello@codewave.in.
FAQ
What is meant by technological disruption?

It's a process of augmenting the way humans live and/or industries operate by completely replacing the old ways. Search engine & social media has disrupted the marketing industry. Shared cabs & online bookings have disrupted the travel, accommodation & food industry. Online education is transforming the way humans learn. And OTT platforms have disrupted the entertainment industry.
What are the most disruptive technologies?
What is the next disruptive technology?
Why is disruptive technology important?