The banking & financial services industry is going through a period of radical change. The objective of this article is to share our observations on the Top 5 trending ideas that are revolutionizing this industry.
Trend #1: Neobanking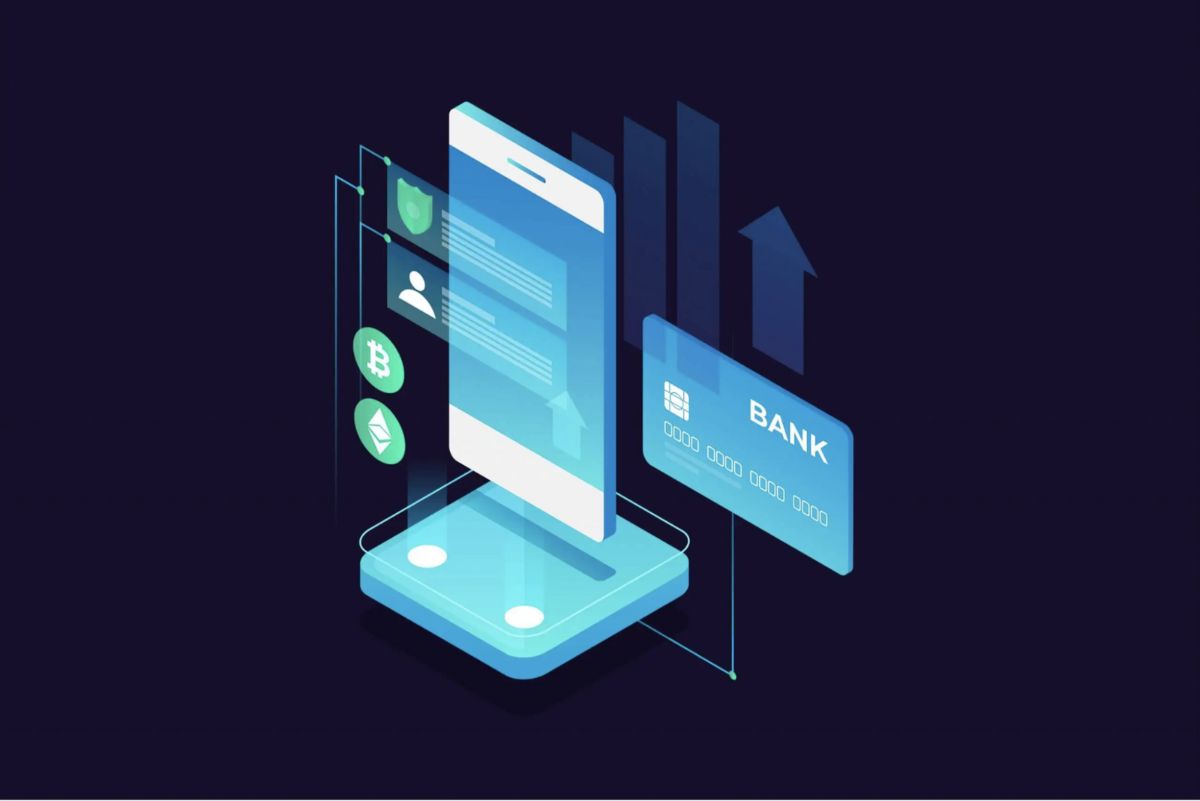 What is a

Neobank

?
In simple terms – A Neobank is a safe, super-fast online bank with "no physical branches", that offers financial services & products similar to a traditional bank.
While we see many sprouting Neobanks, here are a few well-known ones across the globe: Razorpay X, Niyo, Jupiter, Open, Monzo, Revolut, AfterPay, ZipMoney, Judo, Xinja, VoltBank, Prospa.
In India, RBI has not yet allowed a bank to operate entirely online without a physical branch – therefore mandated Neobanks to be associated with a traditional Bank.
Below is a screenshot of Jupiter's mobile app that allows you to easily manage multiple accounts, your spends & savings, all in one place.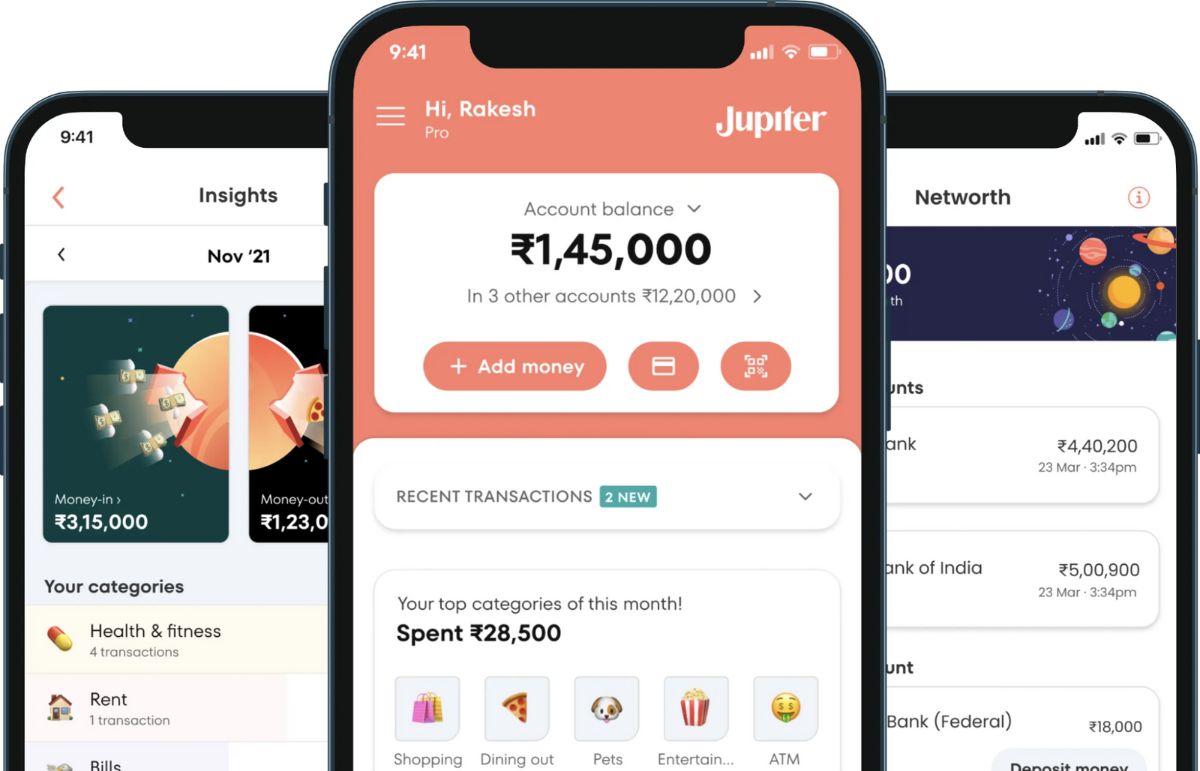 Another Neobank called Fi, allows you to sync multiple bank accounts in one app. Fi seems to have interestingly gamified "saving", by nudging you to save Rs 10, every time you order from Swiggy or pushing you to save Rs 100, every time Kohli hits a 6.
On Fi, you can also search for what you spent, by saying:
"How much did I spend last month on Amazon?"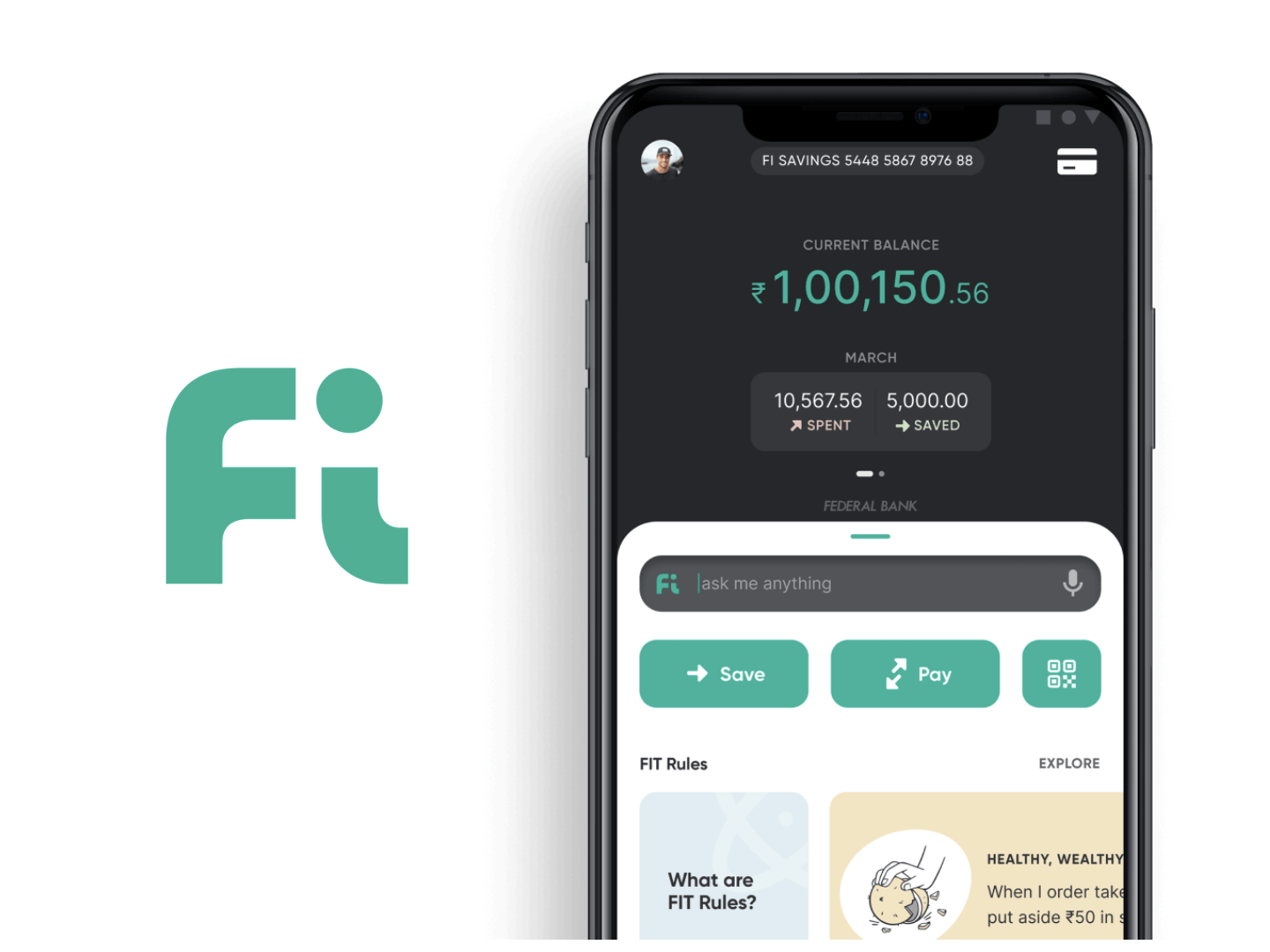 What makes the experience of Fi & Jupiter, different from the experience traditional banks offer?
Simple.
NEOBANKS ARE DESIGNED FOR HOW PEOPLE USE MONEY, INSTEAD OF HOW BANKS RUN.
Shifting from a "Bank-centric" approach to a "Consumer-centric" approach is the key to creating awesome Neobank CX for people, especially digital natives – who are glued to their phones, for their daily needs.
It's also important to consider people of various generations, observe their daily digital behaviors & understand different accessibility needs, before designing experiences for them.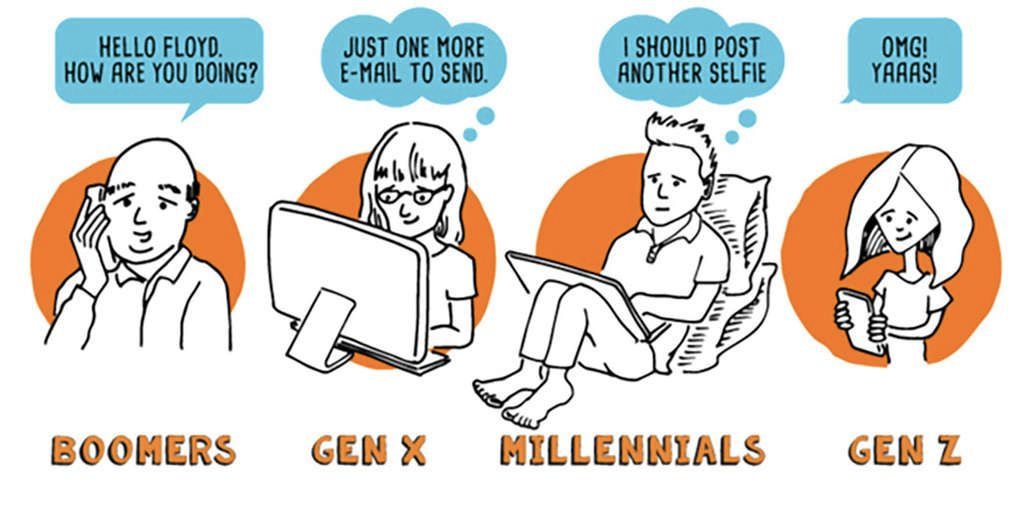 There are 3 most important aspects of a Neobank's customer experience design. And those are:
1) SPEED
2) CONVENIENCE
3) SECURITY
CX Aspect #1: SPEED
No physical branches (Online CX – from discovery to onboarding to active users).
 
24/7 Support & faster resolution times, faster loan processing, with AI & Automation.

New product/service offerings launched fast – 3rd party partnerships & integrations.
CX Aspect #2: CONVENIENCE
Top banking services on the app (Cards, payments, savings, loans, insurance, etc).

Access multiple bank accounts. Sync multiple accounts & search.

Hassle-free international payments. Cards can be used globally.

Hyper-personalized financial advisory.
CX Aspect #3: SECURITY
Biometric verification, 2FA, RBAC (Role Based), Advanced encryption tech
Trend #2: Superapps
What is a Superapp?
In simple terms – A Superapp is an "All in one" app for my digital life.
SUPERAPPS ARE DESIGNED FOR YOUR DIGITAL DAILY LIFE, INSTEAD OF SELLING JUST ONE SERVICE/PRODUCT.
For example, WeChat in China started off as a messenger app but went on to become a mammoth – offering a wide range of services from taxi booking to lottery to shopping to payments, creating an "integrated digital experience" for users.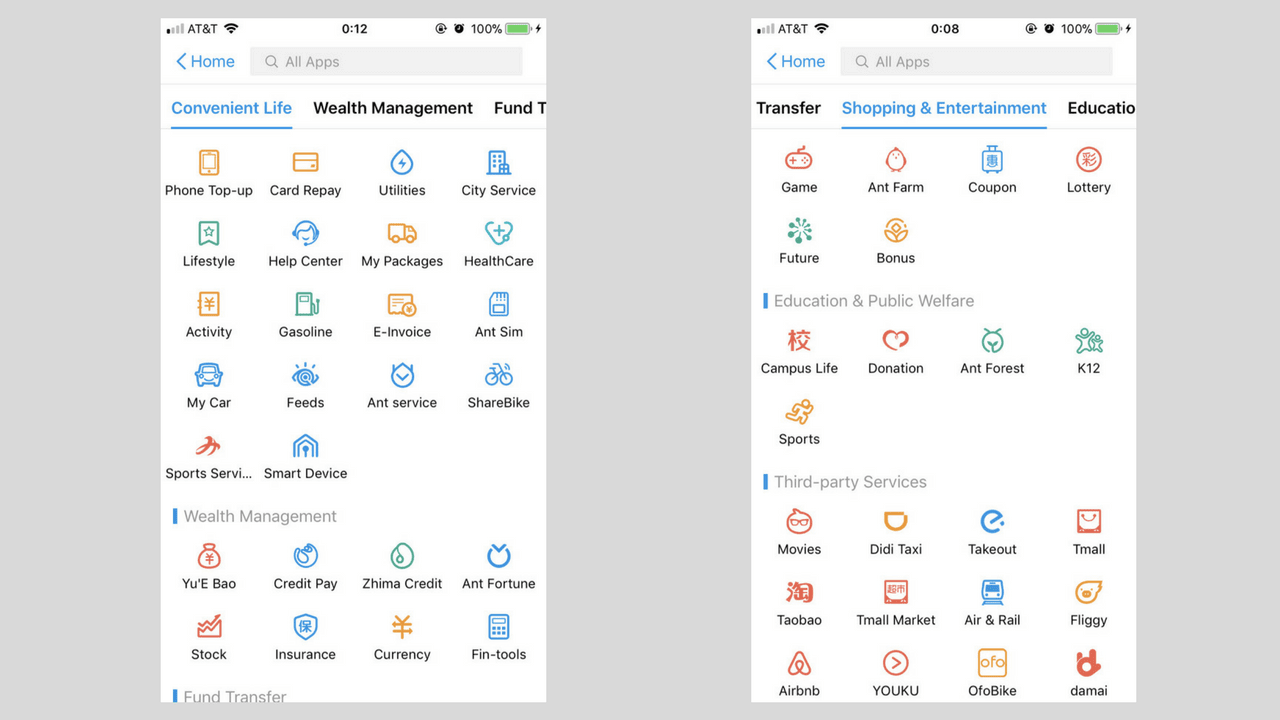 Some of the trendsetters in India are: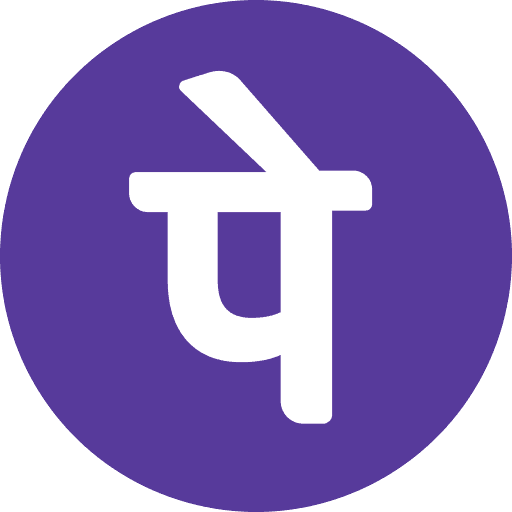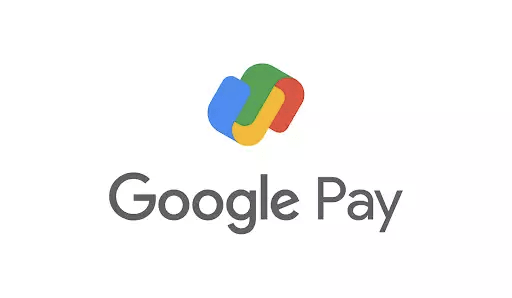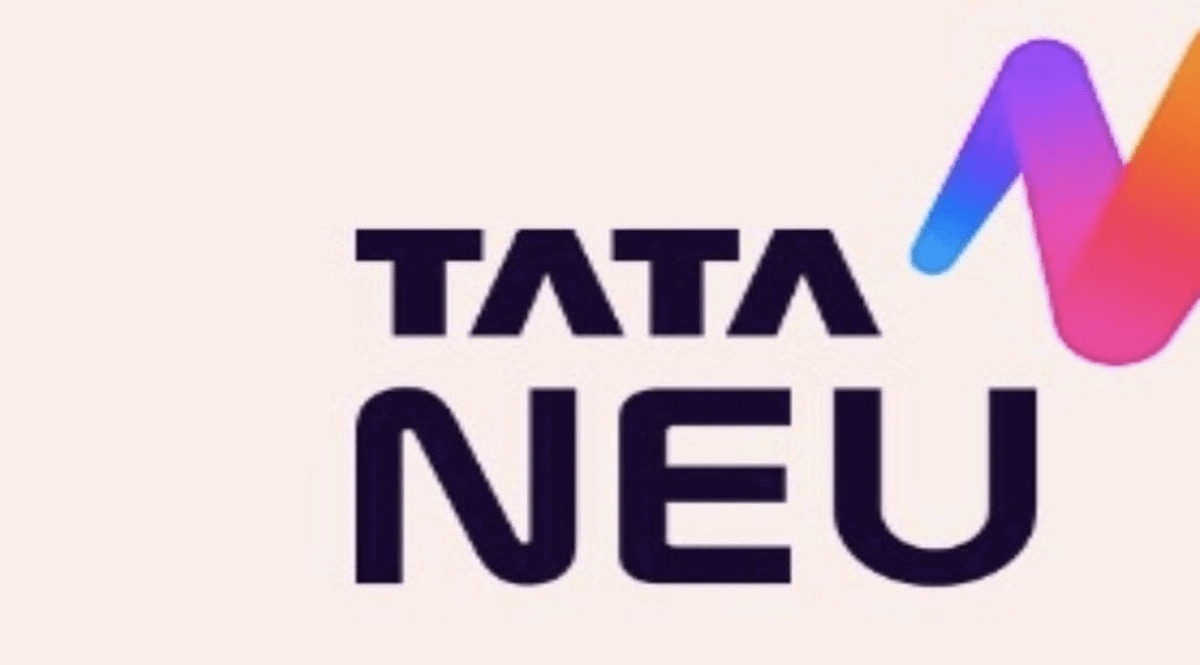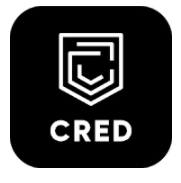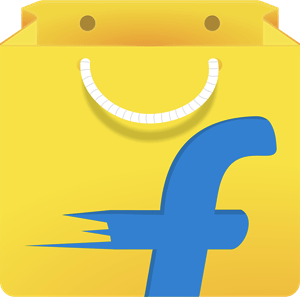 PayTM & PhonePe started off as a payments app, with a single feature "Scan to Pay", and went on to become a Superapp – with Shopping, Insurance, Savings, Bill Payments, Rewards, Loans & much more. 
Today you can buy Digital Gold or avail of vehicle insurance on PhonePe within minutes, without hassles.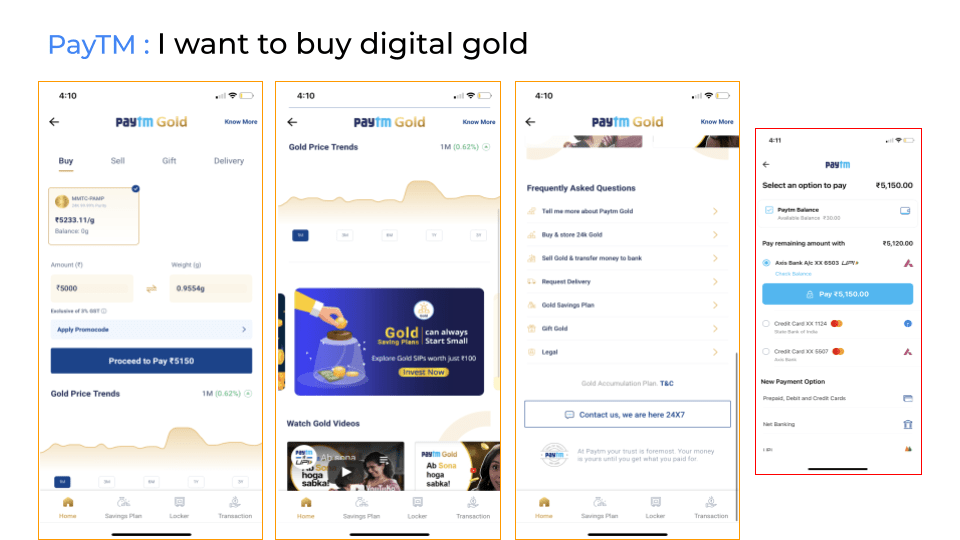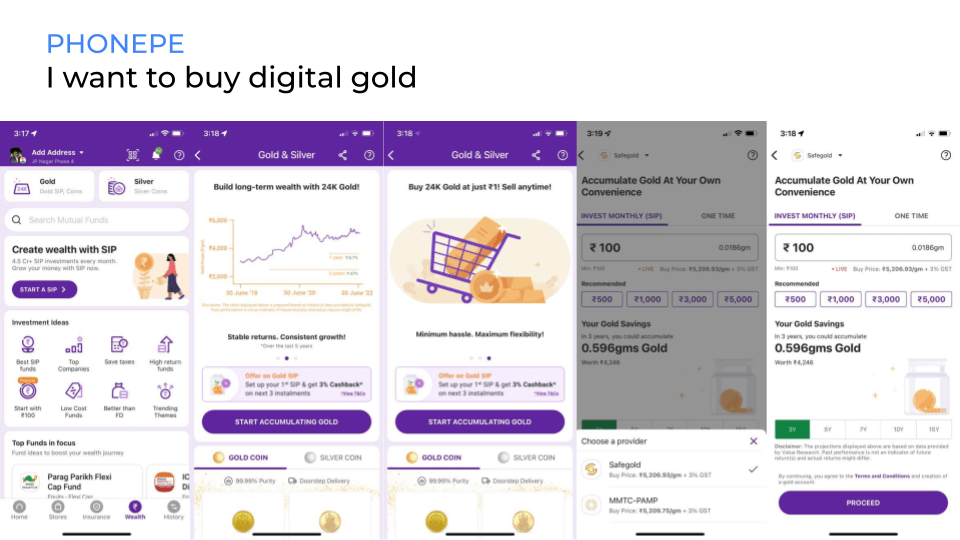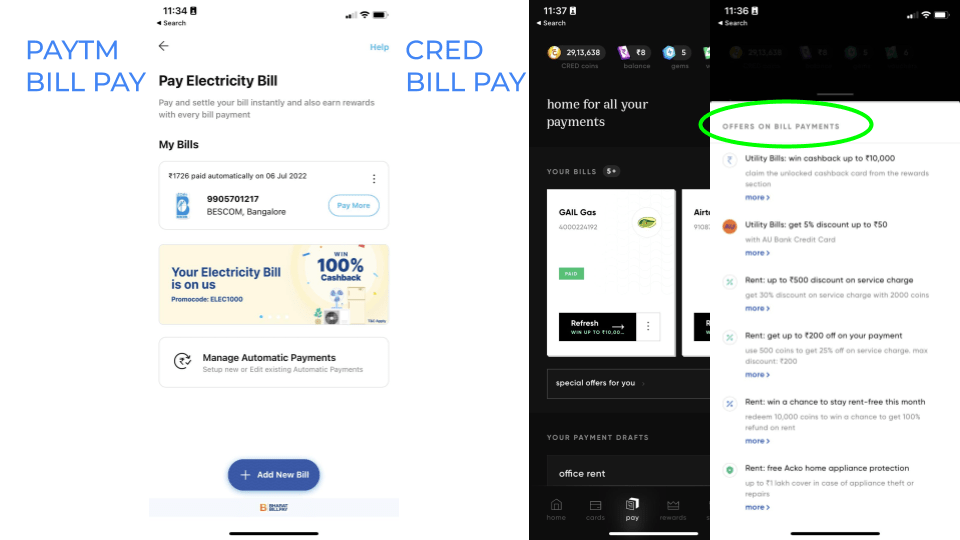 Superapps – CX highlights:
SUPERFAST DIGITAL ONBOARDING:
Superapps like PayTM onboard you with a mobile number and eKYC
ALL IN ONE:
PhonePe, and PayTM offer Bill Pay, Payments, Savings (Digi GOLD & SIP), and Insurance.
PayTM offers shopping, movie tickets & bus/train tickets as well. 
DATA SHARED HARMONIOUSLY BETWEEN APPS:
Allows collection of holistic consumer data & hyper-personalization.
Brings partners and shares data with partners to deliver services.
PERSONALIZED ADVISORY: Highly context-aware, location-aware, activity-aware, relevant & personalized recommendations.
Trend #3: Gamification
Have you checked out the Scratch card experience on Google pay? Or when it was earlier Google Tez?
Google pay, introduced an element of "Unpredictability" – by making users curious to know how much they won after every transaction/payment. Users found it quite engaging & addictive to do swift payments & see what they earned.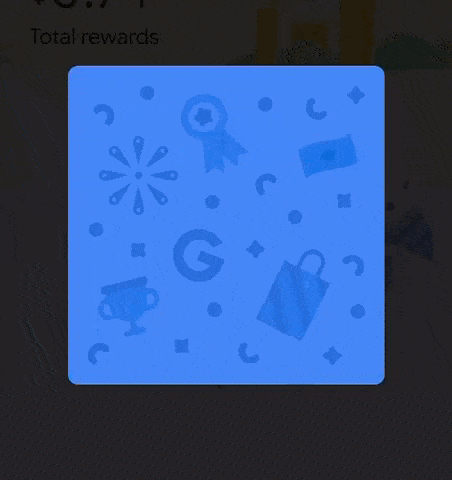 Gamification is a hot trend, with highly engaging world-class products that have been quite successful in bringing users back to the app over & over again.
Gamification is also the answer to this million-dollar question:
There are a million apps on the internet – yes, but where is the motivation?
GAMIFICATION IS FOR YOUR DAILY MOTIVATION & ENGAGEMENT, BEYOND POINTS & BADGES
We recommend the Octalysis Gamification framework by Yukai Chou – which helps you to come up with various whitehat & blackhat techniques to make your app more engaging.
And there are many awesome tools to continuously monitor how users are using the app & what makes them come back for more or bounce off.
Tools for User Behavior Analytics: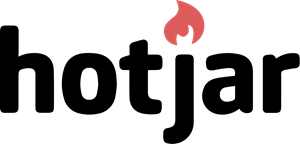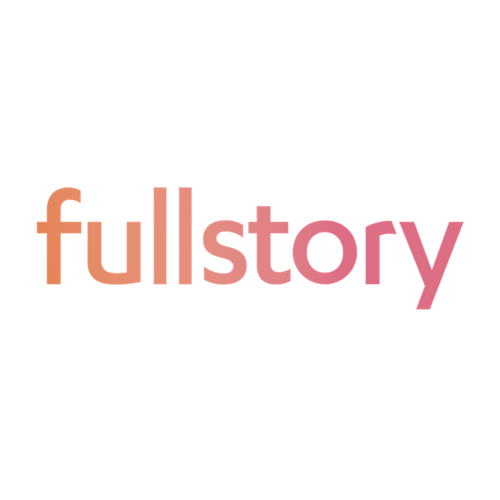 Trend #4: BaaS
BAAS & BInfraAAS IS FOR ENABLING MORE COMPANIES OFFER FINANCIAL PRODUCTS & SERVICES, THROUGH APIs
Banking as a Service will touch USD 43.15 billion by 2026.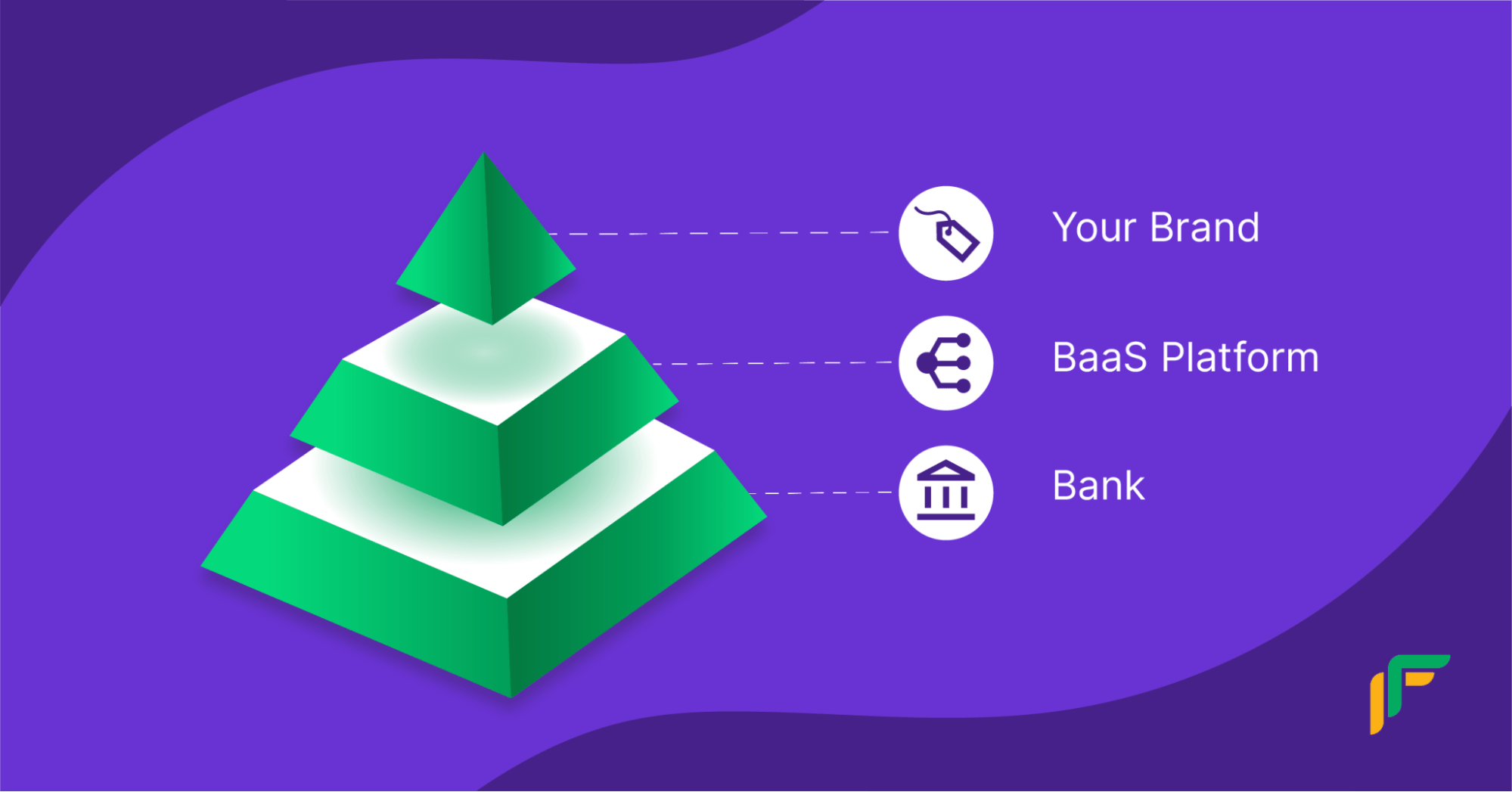 For More businesses to start offering financial services & products, quickly – without the hassle of managing regulated infrastructure & Banking compliances; BaaS is the answer.
BaaS platforms expose Banking systems via APIs – so other FinTech apps can easily integrate with them and start offering services.
BaaS enables FinTechs to focus on the end customer experience & customer journey – while promising to take care of the security & speed of core banking operations.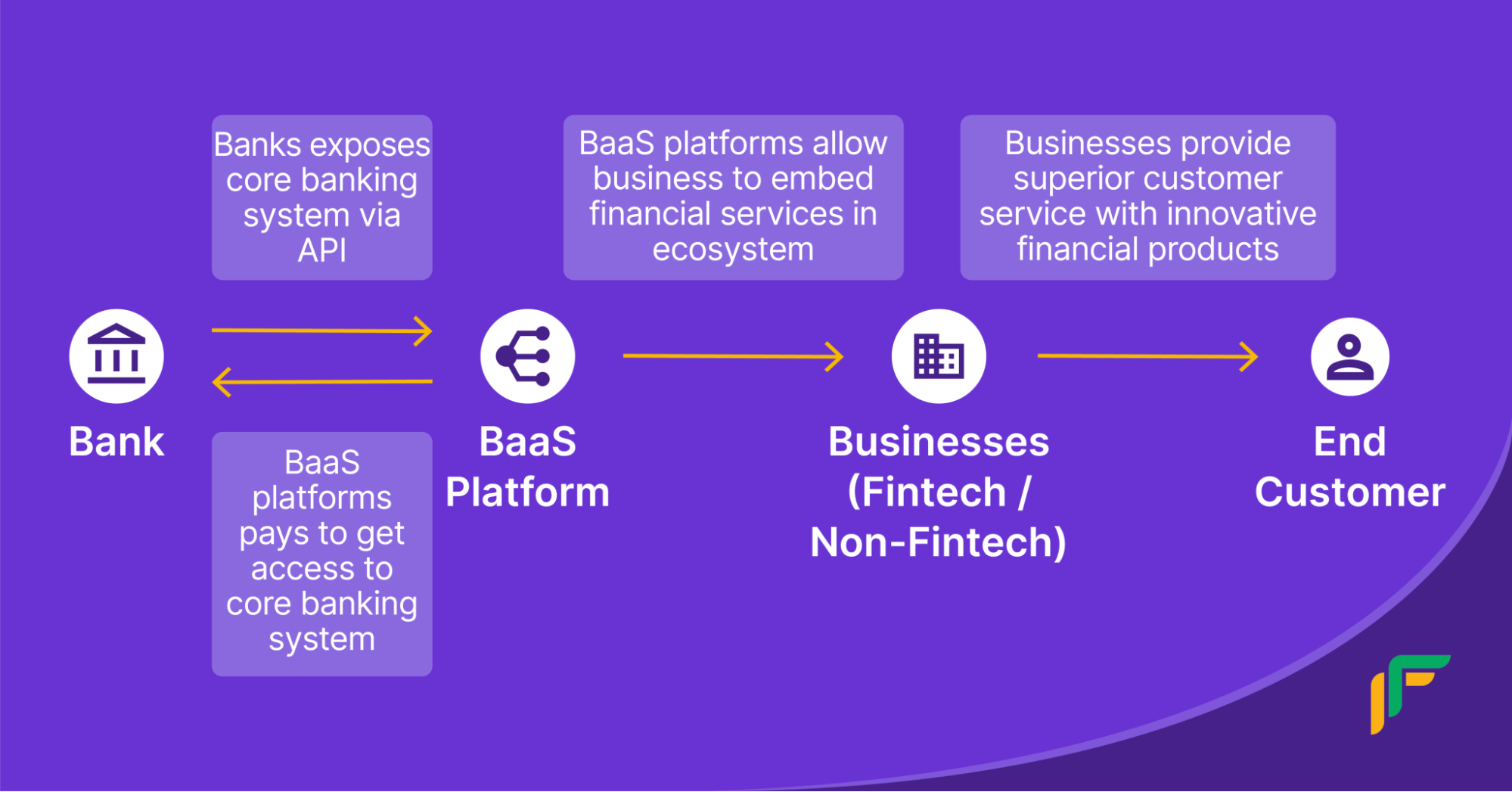 With BaaS, Banks can:
Increase revenue sources, by getting access to customers via FinTech businesses
Gain novel customer insights, as more customers get access to a wide range of services
With BaaS, FinTechs can:
Go to market, by launching their offerings quickly
Acquire more customers through financial services & products
With BaaS, Customers can:
Get access to innovative services & products by new-age Tech companies, apart from traditional providers
Get a novel, unique customer experience unlike traditional banks
Trend #5: De-Fi
CeFi – Centrally controlled Finance
DeFi – Permissionless, Transparent, Secure, Peer-to-Peer Finance on Blockchain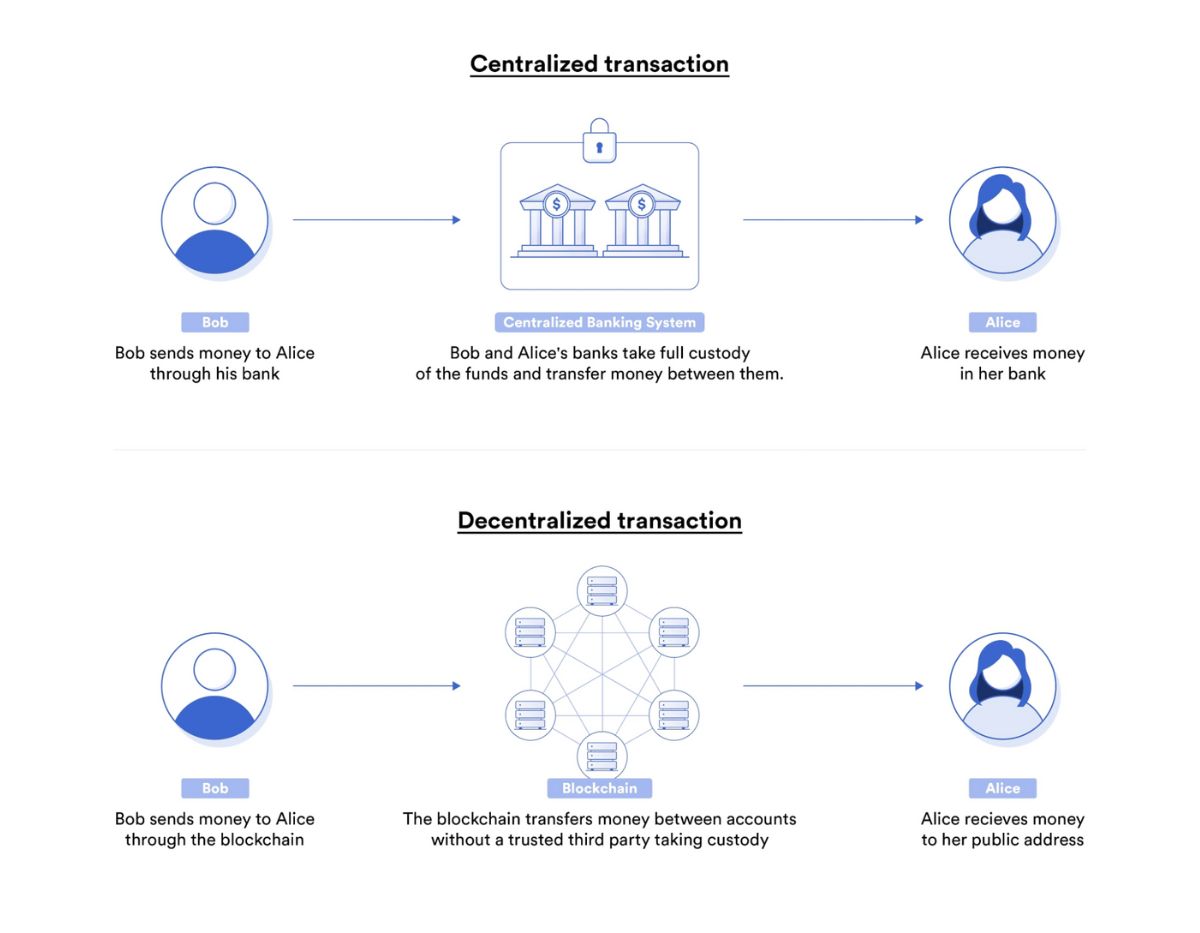 DeFi Tech Stack
DeFi – CX (In Lending, Borrowing, Saving, Investing, Trading or Buying Insurance, etc) 
TRANSPARENT: Everyone involved can see the full transaction data & trace it back to its origins.
FLEXIBLE: Move assets, and transfer ownership seamlessly without hassles & paperwork.
FAST: Interest rates and rewards can fluctuate up or down, say get updated in every 15 seconds not once a month. Get flash loans without paperwork. Low barriers.
SECURE & CONVENIENT: No long, time-consuming application process or paperwork. Easy Wallet creation & access. Secure & fast transactions.
Shape The Next In Finance With Codewave
Codewave has helped multiple 100Mn+ valuation FinTech orgs to innovate & deliver value to customers and shape the rising trends in the financial & digital landscape. Leverage our 10+ years of experience in building digital solutions for SMEs, Enterprises, & Startups across the globe and build the next.