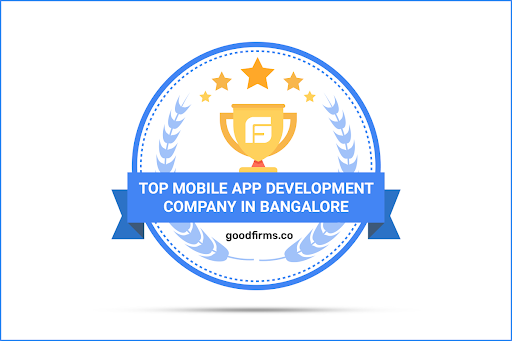 Codewave is a renowned IT company that offers mobile app development, web development, software development, app designing (UI/UX), web designing (UI/UX), AI chatbot development, maintenance & support services.
The company was founded in 2013 with headquarters in Bengaluru, Karnataka.
The company's vision is to create design-thinking-led engaging apps for all sizes of businesses worldwide. They utilize the most advanced technologies, including Swift, React Native, Flutter, Kotlin, Python, etc.
The team is highly experienced & provides an exceptional CX to app users and helps brands grow bigger and better.
The team follows a user-centric approach to develop unmatched mobile applications and deliver excellent service to their clients.
They have built over 100 applications for various industries, including healthcare and medical, education, energy, transportation and logistics, automotive, business services, consumer products, financial services, legal & compliance, real estate, and hospitality.
Recently, the company made it to the list of Clutch global 1000 B2B for 3 consecutive years and has also been a Red Herring Top 100 Asia Awardee in its early years.
Codewave has extended its services and helped many clients lead businesses globally. Here's what Daniel said about their services: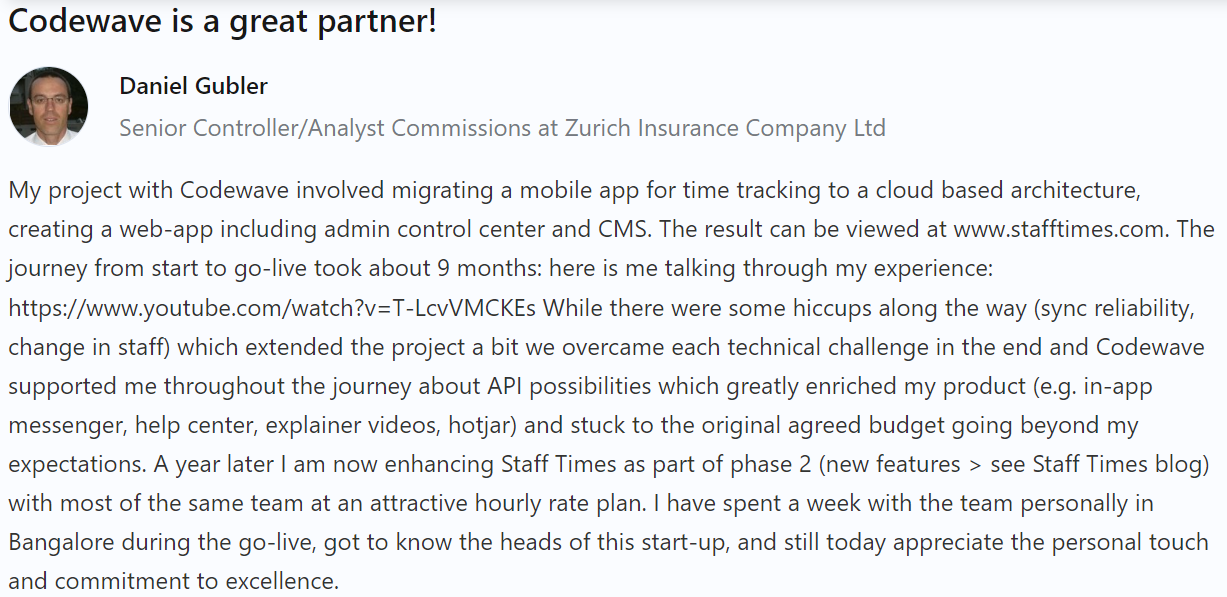 GoodFirms is a B2B organization that connects IT service seekers with service provider firms. The platform helps service seekers collaborate with the most appropriate partner through exceptional research on IT firms.
Additionally, GoodFirms' board of highly-qualified researchers and reviewers performs a quality check on different parameters, including client satisfaction, market penetration, overall experience earned, and the quality of deliverables of its service providers.
Likewise, GoodFirms also evaluated the services of Codewave. According to the GoodFirm's researchers and reviewers, the firm provides excellent mobile app solutions.
Codewave's clientele
Codewave's clientele has a long list of famous brands. Go on take a sneak peek-
3M
Byju's
Ashok Leyland
Prestige Group
Puravankara (Provident housing)
Microsoft
Cisco
Zomato
Siemens
ACCEL
Niuli
The team possesses passionate & professional techies who design interactive mobile & web applications. An innovative & creative app design helps brands to grow rapidly & efficiently. Codewave's app designers & developers ensure the app is responsive on all digital devices, including smartphones, tablets, and desktops.
Codwave's employees are from diverse backgrounds & different parts of the world. The team celebrates the transparency, empathy, and integrity of its employees who believe in establishing solid relationship bonds with clients and, more importantly, helping improve the positive outlook between humans.
Mobile & web solutions require profound skills to handle the development process successfully. Codewave's experienced & talented team members run the integrated support system to provide a perfect combination of innovation & automation suite. The company has employees who have worked for years and which, in turn, has made them global experts in the app development era.
The company's mobile app development strategy & consulting services
Codewave is active across 13+ industries and is helping innovators build:
Customized mobile app design & development solutions (Native, React Native and Hybrid apps)
Legacy system / App Modernization
Re-design the app for scale, speed, & security
Digital products development
Intelligent apps/systems development
Quick prototyping and constant enhancements
Serverless infra, Automated DevOps consulting
Thus, implementing exceptional mobile app solutions for clients worldwide helps Codewave to bag a secure position as the top mobile app development company in Bangalore at Goodfirms.
About the Author
Working as a Content Writer at GoodFirms, Anna Stark bridges the gap between service seekers and service providers. Anna's dominant role is to figure out company achievements and critical attributes and put them into words. She strongly believes in the charm of words and leveraging new approaches that work, including new concepts that enhance the firm's identity.