Wow! 2022 was the year of explosions — Silicon Valley literally got bombarded with AI products (Hey, ChatGPT).
Uhm, we can't deny our involvement.
But what delights us the most about 2022 is the push for sust-AI-nability.
Glee! We feel so excited & fulfilled being part of the impact-heavy products that we built this year.
Explore the top project highlights here.
Top

Highlights

from 2022
Glue— scaling self-management
We are productizing our self-management practice of being your own boss (BYOB) with an in-house app "Glue", which we soon plan to take public to help more organizations embrace self-management at scale.
Codewave's tech-radar is where we showcase our tech, design, and project management stack — the methods & tools that we're flirting with, and other technologies that we plan to adopt soon.
Dubai Trip — forging new connections
We're actively helping changemakers in the MENA region to expedite AI-led innovation in their org.
Recently, we exhibited our capabilities at the MEEAI summit '22, DUBAI, and connected with a lot of leaders from government, education, commerce, and esp Healthcare industry.
Hiring Spree — amplifying our engineering & design capabilities
Fingers-crossed. We're growing, and growing at a healthy rate. We ramped up hiring in 2022 when every other business was forced to lay off its people.
Christmas Party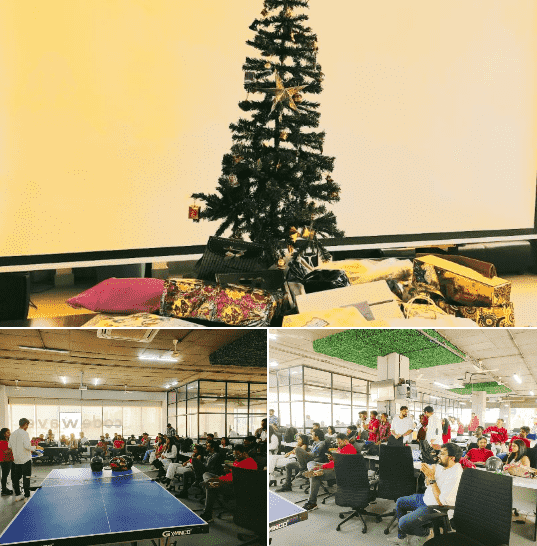 All work, no play?
Not in our genes.
We celebrated almost all the festivals throughout the year.
ESOP — new co-owners of codewave
Making our people win & creating a safe environment for them is one of our core focus. And so, the team has decided to roll out ESOPs to all the changemakers at Codewave.
Manjula Aunty— housekeeping to micro-entrepreneur
Hi Canada
We launched Codewave's Canada branch this year — focused on developing extended intelligence solutions to create the next generation of digital organisms and responsibly augment human lives.
Top

project highlights

from 2022.
We can't thank enough our partners for choosing us & letting us indulge in the sheer joy of creating digital solutions.

~ Team Codewave
Intelligent & personalized finTech product
The first product helps amateurs make filthy profits like seasoned ninja traders. It's a copy trading application built from scratch using cutting-edge cloud architecture designed for scalability, security, and performance i.e., near-zero latency & real-time stock data streaming.
Adaptive & gamified finTech app to push financial education
The second product aims to be a torchbearer for making financial education in India a reality. It is focused on gamifying the entire stock market & incentivizes learners to seek more financial knowledge.
Gamified k12 edTech app
The first product aims at making education more accessible to kids & equips them with the quintessential skills of the next century. Codewave's design-thinking teams exquisitely designed a CX journey map to maximize business KPIs like DAU, Stickiness, and ASL.
Corporate LMS for knowledge management
The second one is a web-based LMS for corporate knowledge management. This harnesses the concept of micro-learning & spaced repetition and uses tech to impart adaptive-learning capabilities in the platform. Couldn't be more proud of the work the team has done.
Truly infinite-scroll eCommerce CX for a sustainability brand
A genZ-focused sustainability brand wanted to revamp its home page and add some genZ bling to it. Our designers took up the challenge and gave a luxury brand makeover to their home-page UI with truly infinite-scroll CX that radiates modern & social-shopping vibes. This is a major feat given that brands have to get ready for the metaverse madness! We're just getting started.
Design thinking workshop to build a new-age NEO BANK
One of the largest ATM chains in India aspired to go bigger on its dream of making financial inclusion a reality in India. And they reached out to our design thinking team for an extensive Design-Thinking workshop. Our team did PAN India research to get the nerve of what the end-users want and came up with a detailed solution.
The org was really happy, and now we are developing an end-to-end NEO-BANK for them.
Note: Can't disclose the details as it's under development.
WHAT's NEXT?
Va-va-voom!
We're just getting started. Let's catch up some time to discuss the details.