What if Saudi Arabia, UAE, Russia, or Norway never learned about their oil reserves? Wouldn't they all meet the same fate that Messi might have met had he never played football as a kid?
The data that your org sits on is not that different from the oil or the game of football.
You can either use your data to fuel your business, get to your organizational goals, or die a slow death competing with your rivals quarter after quarter. 
Synthesis of data into your digital transformation strategy helps unlock insights in real-time, enables bias-free confident decisions, and uncovers new channels of innovation & business growth. Today, your data is your monopoly. As per Statista, 62% of organizations are actively pursuing digital transformation (DX) across different business verticals, and the total cumulative expenditure on DX projects is estimated to be worth $2.4 Tn by 2024. Data is a key factor in ensuring that these investments give a good ROI. 
Read this insight to understand why data should not just be in the engine but also in the cockpit of your org driving all your digital transformation strategies.
What's

Digital Transformation

?
It's an ongoing non-linear journey to digitization & digitalization.
Digitization is translating & storing your analog data in digital form. For example, digitizing SaaS docs/data to databases & visual dashboards.
Digitalization is about modernizing & streamlining your operations, processes, and projects with the help of digital tools. For example, digitalization of resource planning with ERP software, or automation of machinery maintenance with IoT & predictive analytics.
At its core, digital transformation is aimed at spurring innovation & growth across the organization while bolstering resilience to external threats, enhancing efficiency and business agility.
Your digital transformation efforts are successful if it unlocks value for your customers, your employees, and you.
Digital transformation

project

examples
Digitization

of fleet management, and real-time package tracking.
Building a

digital infrastructure

to automate employee performance management & to shape a remote-first work culture.
Reimagining a traditional digital system as a

SaaS

software (Hello Adobe).
Predictive maintenance of heavy machinery in industries like automobiles, oil & refinery, textiles, etcetera.

Decentralized

banking & finance platform for trading crypto assets.
Automating credit & risk management in banking institutions. 
Speeding up and partially

automating

the insurance claim process.
Digitization of real estate, land, and farm ownership data.

Omnichannel

integrated marketing for consumer product brands — both D2C & B2C.

Digitalization

of media publishers – news, magazines, books, everything.
Smart analytics of sales & marketing numbers.
Smart sports

analytics

& insights from 360-degree VR videos.
AR &

data

powered healthcare digitization.
…and so on.
Data

& Digital Transformation Strategy — busting the secret relationship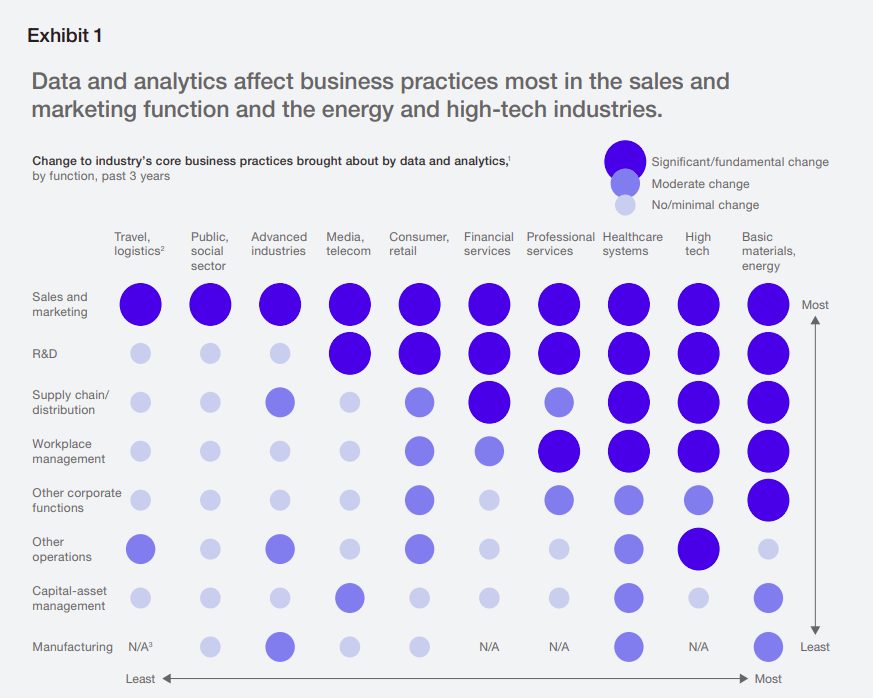 Orgs across sectors & geographies are embracing digital transformation. All their journeys are unique — some are betting big on AI & cloud computing for enhanced employee productivity and for innovating at scale; many are attempting to reshape traditional into digital, especially in the education sector; others are exploiting web, mobile, cloud & edge for better efficiency across manufacturing & operations.
But irrespective of the route these organizations take and the technologies they place their trust in, all their digital transformation journeys have one common fuel — data.
Blockchain, AI, ML, Web, Mobile, Cloud, Edge, and even XR — data is the common thread running through them all.
In short, data makes navigating the digital transformation journey for your org as easy as slicing a knife through butter. Without data, your digital transformation strategies are no different than you smashing your head on a wall, maybe a not-so-plane bumpy wall.
How Data Can Help in the Effective Execution of Digital Transformation Strategy?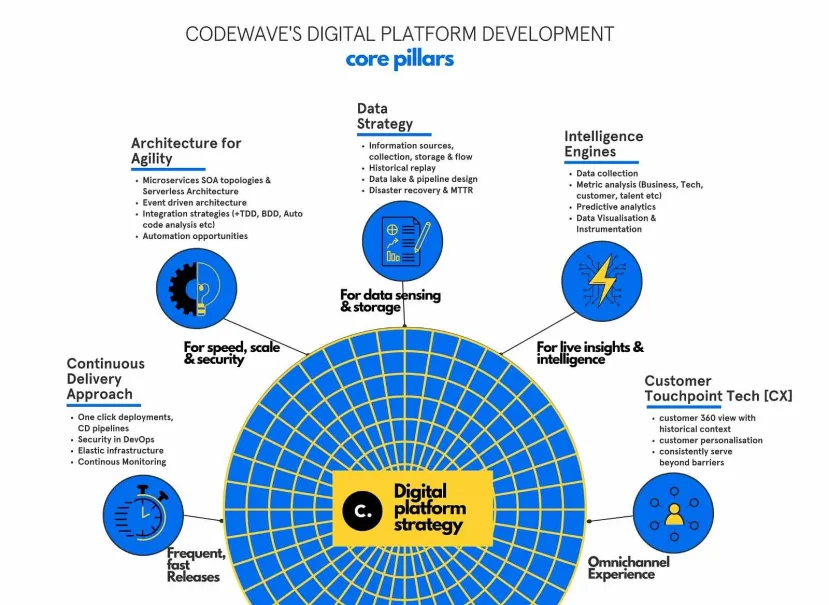 Oxygen is running scarce, but data is everywhere. Chances are that your org and you are sitting on top of a data goldmine without even realizing it. One question that must bog the heads of every chief data officer is "how to effectively leverage organizational data?".
Well, you can rely on the WWWWH framework. Why What, When, Who, and How may not apply everywhere, but for digital transformation projects & products it works like a charm. Try figuring out-
Why use data for a ________ project/product/initiative?
What type of data to use and what not?
Who should play with the data — people responsible for the transformation?
When does data enter the picture?
How to use the data – the tools, talent & tech stack.
In return, data helps you find out-
Why build or not build a product as part of a digital transformation strategy?
What to build in a product, what customers want, what your talent can build, or what do you need to do to build the product that you must as part of the digital transformation initiatives?
Who should be the stakeholders of the project?
When to launch?
How to launch the product — basically the target group, product pricing, and other aspects?
There is a saying, "if you can't measure it, you can't improve".
Data enables you to measure and improve. It improves the odds of your digital transformation initiatives. 
Your data can answer the What, the Who, the When, and the How for all your digital transformation strategies. And that answers why it must be in the driving seat.
Let's explore how you can make your org data a competitive differentiator.
Adopt Cloud — Intelligent & integrated
data stack
It's possible to reinvent your business with data. 81% of organizations lack an effective enterprise data strategy to leverage their data. At times, how much you can harness value from the data is also limited by your organization's infrastructure.
To architect an effective data stack–
It is recommended to eliminate too complex red-ribbon bureaucratic processes from your

data strategy

. 
Modernize your data infrastructure by embracing the cloud, and making it easier for cross-functional teams to access process, and visualize data. A single source of truth ensures that even independent teams have aligned goals.
Data should stream into your

data lake

in a consolidated way from marketing, sales, customer experience, revenue, human resources, etcetera, which gets processed & consumed by different models and improves the quality of insights you drive from it.
Flexible internal data governance & robust compliance policies are equally critical.
Components of a typical Data Stack-
ETL tools: To extract, transform, and load siloed data from a multitude of sources into data warehouses and back to consumption nodes/points/sources.
Data Workspace: Data analytics tools that allow technical analysts (those who can play with code/query) to do more than what a BI tool can achieve.
Data Modelling & Transformation tools: To store data in warehouses, you need to model it, and transform it to eliminate inconsistencies so that it can be utilized to drive insights.
Data Warehouses: It's home for your structured & processed data. Source applications collect raw data from sources and store it in warehouse post-processing. Modeling & transformation tools consume the data from the warehouse, further clean it and store it in either the same or a different data warehouse.
Data Lake: Again, a repository for source data but it is flexible. Any data can walk into it – consider it as your unfiltered data storage. Structured, unstructured, logs, just everything can get in here.
Data Mesh: It's a modern approach to dealing with a distributed data stack where you don't necessarily need to transform and load it in a warehouse or a data lake before you consume it.
Data visualization dashboard tools: These are the tools where you display the processed data in a visual form i.e., dashboards, charts, and graphs.
Visualize right— clear the data noise
Are you running a retail chain business and evaluating new geographies to enter or new places to open your store? Or are you planning to launch a new automobile in an XYZ market? Or wait, the better question is — should you?
You shoot the question and data holds your answers. Okay, only sometimes …but more than often data has the answer if the question is relevant to the dataset.
While consulting your data, there is also a threat of running into the trap of false positives. So, it becomes important to visualize your data in analytical dashboards that are designed to enhance the visibility of the insights emerging from your data.
This applies to marketing, sales, customer service, product, revenue, and all sorts of data.
The better the quality of the data, the better you will be able to visualize it. The better you visualize it, the better you'll understand the data. And this would mean more accurate decisions and often goal achievement parties too.
Effective data visualization dashboards can help you further clean data, unlock value, and speed-up the innovation & growth.
For product enterprises, dashboards can help highlight early trends, which may uncover new income/revenue streams, or anticipate a product demand ahead of time.
Codewave — Your competitive advantage!
Codewave helps you build custom data solutions – from data collection to cleaning, processing, and data visualization dashboards.
Here's what you can do with Codewave as your digital transformation partner:
Embed design thinking into your digital transformation strategy.
Design & deploy scalable code/solutions/algorithms to collect alternative data from multiple sources.
Develop custom ETL solutions – design data warehouses, mesh, lakes, etcetera.
Develop ML models to process the data stored in your warehouse/lake.
Design custom data dashboards to view processed data in a unified fashion from different channels/verticals like marketing, sales, and product touchpoints. 
Custom data solutions, which are designed specifically for your business use cases, help you gain real-time insights into what's yielding results. This enables you to identify & maximize the efforts that give good ROI.
Conclusion
Irrespective of whether you call data the new oil, the digital currency, or the 21st-century real estate, one thing we all can agree on is — it's valuable. In today's cut-throat competitive world, assumptions and biases are not gonna help you succeed. Your competitors know about your users, and you must too! Today, organizations concentrating their focus on user-centricity are reigning the business paradigm. Data must be the guiding force to reap the max out of your digital transformation projects.
Contact us to start innovating with data 🙂