We love the power of Edge – the new age sensing technology, it's ability to observe users from the closest proximity in realtime and it's ability to gain greater awareness on the sensed information and take intelligent local actions. Jump to edge computing use cases
Edge Computing brings input, processing & output systems together as one whole, closest to the user's environment.
WHAT IS EDGE COMPUTING: AN ESSENTIAL PRIMER
Gone are the times when data traveled from its source (user events) to a server far away and then traveled to another server to be processed & extracted. And then business team used to analyze it remotely, to make it actionable. There was a certain geographical distance (& time gap as a result) between data originating at it's source (user) and the computer that's processing it for a business to gain awareness and intelligence.
Business information systems earlier were architected in a such a way that the enterprise sense organs (input systems), enterprise nervous system (processing units) and enterprise motor organs (output systems) were acting as disparate units, not functioning together coherently as one whole. EdgeComputing brings input, processing & output systems together as one whole, closest to the user's environment.
FARM TO TABLE BLOCKCHAIN FOOD PROVENANCE
Before digital, data was captured on paper & pen. Post digital, computer interfaces and databases replaced paper & pen. With growing digital intervention & digital transformation, businesses started collecting petabytes of data of it's consumers. However they failed to learn & act, as fast as they collected data and ended up mostly analyzing historic half-yearly trends, taking corrective actions months after user events occurred. Edge tech is cool because it brings information sensing, analyzing & acting to the edge (quite literally), closest to the user's reality, empowering businesses to transform key user moments that matter.
THE RISE OF NEW AGE SENSING TECH
Today 'sensing' technologies are constantly moving closer to consumers' real-world moments. Turning information into intelligence and then into actions near-realtime. Reducing the time taken between data collection – context awareness – intelligence – actions – continuous learning. Sensing & Processing sensed information for awareness is now local and is in the proximity of the user.
Sensing tech is going beyond just sensing. It has transitioned into an intelligent I/O. It is interacting with the user in realtime. Afterall, Information is power, only when it leads to greater intelligence and deeper user engagement.
Edge tech is cool because it brings information sensing, analyzing & acting to the edge (quite literally), closest to the user's reality, empowering businesses to transform key user moments that matter.
READ ABOUT GATSBY, TECHNOLOGY WE USED TO BUILD BLAZING FAST EDTECH WEBSITE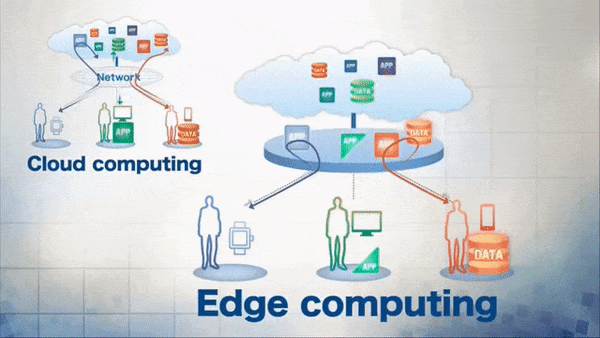 To summarize, Edge Computing moves intelligence closer to the source of information, the locus of user events (in tech jargons, brings AI closer to the source of Big Data). It's enabling businesses gain a unique competitive advantage of viewing their consumers' reality differently from their competitors.
EDGE: AN INSPIRATION FOR NEW AI STRATEGIES
Edge tech is an opportunity, for every business to revisit their user data and make strategic interventions with AI. Infrastructure & Technology suite for Edge Local (hardware, firmware, software) and Edge Cloud are available today to deliver intelligence locally. Higher internet speeds like 5G would make it possible for local to cloud exchanges happen seamlessly in realtime.
EDGE COMPUTING: FORMAL DEFINITION
Wikipedia describes edge computing as:
"distributed computing paradigm in which computation is largely or completely performed on distributed device nodes known as smart devices or edge devices"
Gartner defines edge computing in simpler words as
"solutions that facilitate data processing at or near the source of data generation. For example, in the context of internet of things (IoT), the sources of data generation are usually things with sensors or embedded devices"
According to Gartner, by 2022 75 5 of the data generated by enterprises will be processed outside traditional centralized data center or cloud which presently clocks at 10%. Andrew Fray, managing director at interxion said, "In 2019, 5G deployments and the increasing proliferation of IoT will be key drivers behind the edge gaining significant awareness and traction".
DOWNLOAD AWS BEST SECURITY PRACTICES
BUSINESS USE-CASES OF EDGE COMPUTING
Image Source – Vertiv
C-suites are often more interested in the business implications and value propositions offered by any new technology, the problem it solves and the challenges it poses. Edge computing promises to deliver improved performance and better security for smart IoT applications when compared to existing solutions.
Edge computing has applications in healthcare, fleet management, gaming industry, retail and many more. Here is the list of Edge computing use cases :
Edge computing use cases in Autonomous Vehicle Industry
Technology and automobile industry giants like Google, General motors, Apple, Honda and Uber are betting big on self-driving cars. By 2025, according to gartner reports, Autonomous Vehicles (Avs) will upload over 1 terabyte (TB) of vehicle and sensor data per month to the cloud.
Jonathan Davenport, senior research analyst at Gartner says,
By design, Avs cannot rely on mobile networks such as 5G for core functionality, but must utilize multiple technologies to meet performance and safety design objectives… Nevertheless, 5G network will play a crucial role in handling the massive amounts of data generated by Avs and their users for all kinds of purposes, including safety, connectivity and entertainment.
5G, Artificial Intelligence (AI) and Edge Computing together could enable autonomous vehicles to collect data, analyze it and make intelligent decisions in real time. 5G technology could ensure high speed data transmission between vehicles and communication towers. The distributed cellular towers are in the close proximity of data source and provides computing capabilities. It providing reliability and low latency that AVs require.
Edge computing architecture empowers AVs to process and share critical data between vehicles and broader networks in real-time with almost zero latency. AI would enable these Avs to make intelligent decisions in real-time.
Edge computing use cases in Machine Monitoring & Maintenance
In our article on blockchain, we've described how blockchain and IoT sensors could be utilized to monitor machine health. Machinery in any industry comes with a limited life expectancy tag attached with it. A small ignorance here and there while operating these machines impacts it life expectancy. This would result in huge financial losses. If maintained properly, same machine could last way longer than expected and result into higher returns.
IoT sensors can monitor critical health metrics of machines. These sensors could leverage edge computing capabilities to analyze the collected data on the local edge. It's possible to push the analyzed data and results to the cloud. Leveraging edge enables to perform corrective measures and maintenance tasks before machine malfunctions and interrupts dependent processes. This enhances operational effectiveness and optimize returns on assets.
USING ADOBE ANALYTICS IN IOS APPLICATIONS
Edge computing use cases in Retail
Edge computing's unique selling proposition is it's ability to collect and analyse data close to it's genesis and delivering insights on the go. In retail, IoT & Edge could be exploited to gather data points such as purchase history, credit history from in-store customers to avail them personalized service.
Retailers can analyze collected data and profile buyers into different segments depending on their purchasing power, shopping frequency and other parameters. Also, retailers can bank on this data generated insights to optimize their marketing campaigns such as product recommendations etc.
ADVANTAGES OF EDGE COMPUTING
RETAIL DIGITAL TRANSFORMATION SOLUTIONS : MODERNIZING BRICKS AND CLICKS UNIVERSE
Reduced Latency : In the world of connected devices, vast amount of data is being produced with every tick of clock. Businesses need higher fidelity analysis, lower latency requirements with added cost benefits. Cloud is great for data storage & training machine learning models but there is still room for improvements in efficiency. Enters edge computing, reduces the amount of data sent to the cloud. Enabling enterprises to avoid unnecessary data transmission costs, achieve lower latency and deliver higher fidelity analysis.
Reliability and Security : Edge computing devices avoid unnecessary data round trip to the cloud. Instead, it stores and processes critical as well as sensitive data locally (on the premises or on local edge in the close vicinity). This ensures no operational failure or loss of data. This is crucial for industries like oil well, windmills, solar farms etc.
Cost Effectiveness : CXOs are highly concerned about the cost associated with adoption of IoT solutions. Edge empowers them to choose the right architecture network (bandwidth, computation power) and achieve more with minimum dent on finances.
Ed-Fowler, VP at virtusa says,
the speed of results from edge-computing applications is vastly higher than traditional architectures and this can result in revenue-making opportunities, cost effectiveness and better services
EDGE COMPUTING ARCHITECTURE
The infrastructure consists of four layers of storage and compute along with communication infrastructure to move data between layers.
At Source, we have devices, usually sensors, that collects or generates data. Also, we have processing end-points such as PC, mobile or a microprocessor embedded in wearable devices.
Next, architecture demands a local data hub in the close vicinity of source devices to facilitate storage and processing of data collected at source.
The urban hub utilizes existing telco infrastructure to support local hub with more robust data processing and storage capabilities.
The regional hub provides long term data storage and support capabilities such as machine learning.
EDGE COMPUTING – WHO IS IT FOR ?
"Virtually every aspect of business and society is starting to rely on edge computing to improve quality of life and become more connected and competitive. For our customers and their customers continuity of compute and services is crucial", said Hewitt, President at Vertiv.
Implementation of edge computing would vary from one business to another and it will solely be dependent on business needs. In general, CIOs of businesses who are unhappy with cloud latency shall be happy to explore edge. Also, businesses that bank on real-time analytics must consider adding edge computing muscles to their organisation.
EXPLORE CODEWAVE'S DIGITAL TRANSFORMATION SOLUTIONS
Stay connected to Codewave for more such insights and feel free to reach us at hello@codewave.in or +91 8971824910. If comfortable you may drop by at 1st Floor, Shree Chambers, #307, Outer Ring Rd, Banashankari 3rd Stage, Bengaluru, Karnataka 560085. Thanks for taking out time to read this article. We hope it enriched your existing knowledge. Do let us know your views, by sending an email to hello@codewave.in.